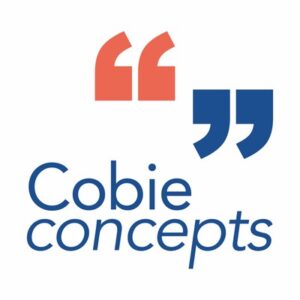 Cobieconcepts builds strong brands, energizes business communications and plans unforgettable events.  With our expertise, you can create a cohesive brand identity across marketing materials, press releases, website, social media and events.
Our philosophy is to approach all projects from the customer's perspective.  We make it convenient for  customers in your target demographic to find you and patronize your business.  We know from experience that when you correctly position a product – even in the most crowded marketplace – customers come to you.  So, our marketing, public relations, advertising and event planning strategy reinforces your competitive advantages throughout every stage of the sales cycle.  After all, educated customers are happier with their buying decisions and more likely to recommend products and services.
Count on us for brand launches, social media development and maintenance, writing and editing and event planning.  From ad hoc projects to complex marketing campaigns, connecting people is at the heart of our business.
At the request of our clients, we have expanded our services to include event planning. We have developed the Cobieconcepts Connection, a network of preferred vendors that includes chefs, special event venues, mixologists, musical talent, specialty food companies and health specialists.  Now, you can wine, dine, educate and entertain your family, friends, employees and colleagues with one call to Cobieconcepts.
Through a partnership with Z&J International, our services extend to global sourcing of retail packaging, branded items and other products in large quantities directly from farms and factories overseas.  
Curious about what we can do for your business?  Schedule a one-hour consultation to assess your needs and outline a plan by emailing, calling 203.273.4944 or completing the contact form.